Bike Panniers
This is the first time I have written a tutorial. I hope it is ok, the blog post for these panniers is here
Step 1 - Measuring and Cutting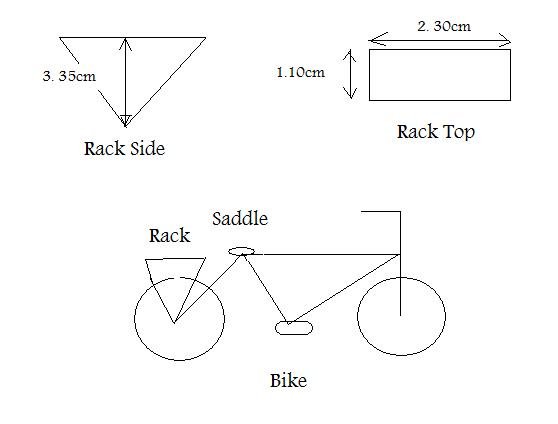 First measure your bike there are 3 key measurements:
1. Top of the bike rack left to right (10cm)
2. Top of the bike rack top to bottom (30cm)
3. Length from the top of the bike rack to the bit where it fastens on to the wheel (35cm)
Once you have these measurements there are 9 pieces to apply them too,
The first two are the front panels of the paniers. 35 × 30
The second 4 are the side panels: 10 × 35
Then 2 bottom panels: 10 × 30
The final piece is the piece at the back which goes from the bottom of one panier over the rack to the bottom of the second panier: 35+10+35 by 30
(My mum always told me to add 1-2cm on each side for seams)
I lined my paniers too so I doubled up on each piece with some tough white cotton.
Step 2 - Creating the Main Body of the Panniers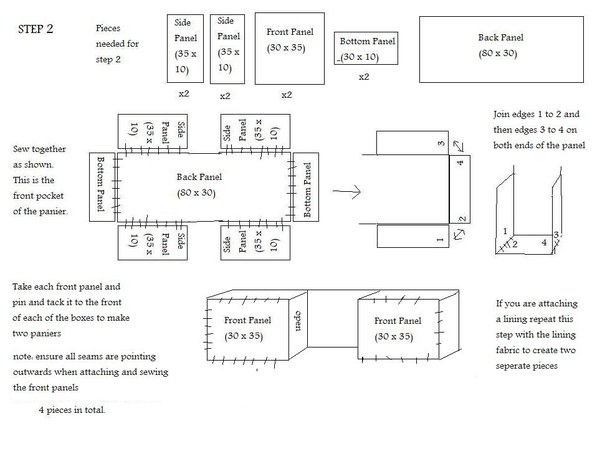 Sew the four side pieces and the two bottom pieces to the long back piece to create a cross shape at the top and the bottom. The whole thing is still flat at this point.

Join the sides to the bottom piece on each end, This makes the sides and the bottom stick out (pinning and tacking helps a lot to get the corners square).

Pin

the front pieces on to the main body. I did exactly the same thing with the lining. The lining also helps to make the painners tougher.

Before joining the lining with the outer shell, I attached some velcro on to the back corners of each of the paniers. This fastens around the bottom of the rack and keeps paniers out of the way of the wheels. I also attached a two pieces of velcro onto the edges of the middle of the piece of cloth that will cover the top of the rack, this fastens the paniers on to the rack and stops them from sliding about. The most useful fastener is the one that attaches the panniers to the top of the rack, I often don't use any of the others as the weight holds the panniers on fine and the rack keeps them off the wheels.
Step 4 - Joining the Lining with the Outer Shell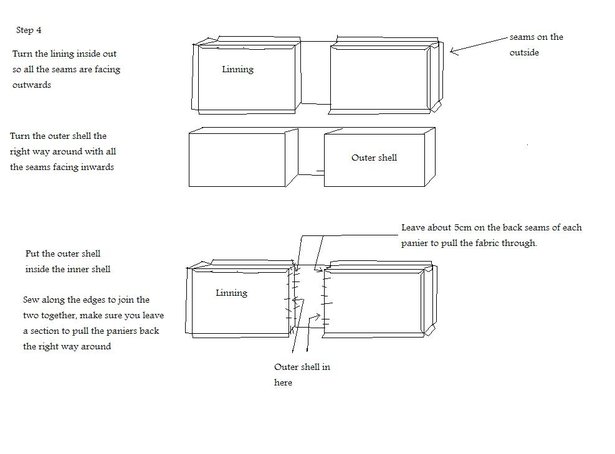 Make sure the lining is inside out with all the seams facing outwards and the outer shell is the right way around with all the seams facing inwards.

Put the outer shell inside the lining. You should see all the seams pointing out now.

Sew the tops of the lining to the outer shell where the opening of the paniers will be. Make sure to leave 5cm on the back seam of each panier to be able to pull the fabric through so the paniers are the right way around.
Step 5 - Pulling the Panniers the right way around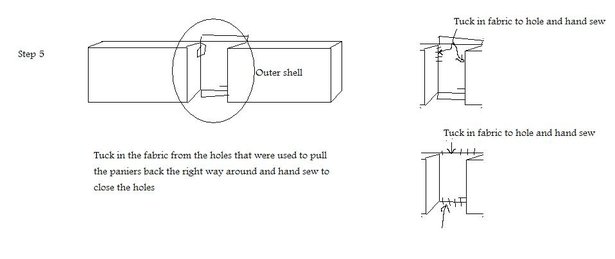 Pull the paniers though the holes left in the lining so that the seams are all hidden and the outer shell is now on the outside of the paniers. There are 4 seams left to finish off now.

Where the holes were tuck the fabric inside the holes and hand sew to close the seams.

On what will be the fabric covering the top of the rack, fold the fabric that is left inside the holes and again hand sew to finish
Annie
2010